Required reading:
Optional reading:
Graphics: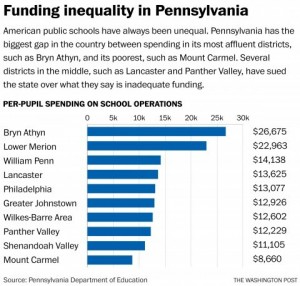 As reported by the Education Law Center in both its annual report card and a separate paper comparing two neighboring states, New Jersey's per-pupil funding has been progressive in recent years — channeling more dollars to low-income students — while New York's is the opposite: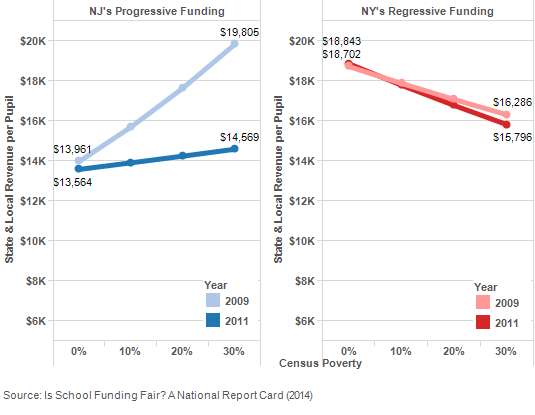 One impact of this different between the two demographically similar and high-spending states can be seen in New Jersey's much larger gains in NAEP scores in both reading and math during this time period, and its greater progress in closing achievement gaps between higher-income and lower-income students: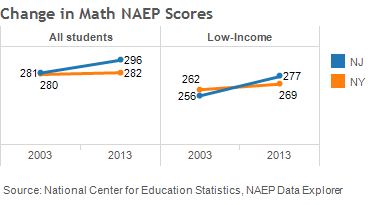 Video: In this December 2015 interview, Jonathan Kozol asserts that decades after he began to document the fact, "we still are running an apartheid education system [in which] funding for schools and resources for schools are savagely unequal."
Book club: Jonathan Kozol, Savage Inequalities. 1991. Over two decades old, this vivid description of disparities between schools serving students of different races and social class unfortunately holds truer than ever. Based on Kozol's observations of classrooms in public school systems in some of the nation's poorest cities, he describes what takes place in both the lowest- and highest per-capita spending schools, ranging from just over $3,000 in Camden, New Jersey to $15,000 in Great Neck on Long Island. The book illustrates the overcrowding, unsanitary conditions, understaffing, and lack of such basics as textbooks, despite high tax rates levied on poor, minority communities to try to compensate for low tax bases. The book touches on both successful and unsuccessful lawsuits waged by plaintiffs in these poor districts and calls for an end to the racial segregation that he argues is alive and well in the American educational system.
Study Questions:
Why do Americans tolerate, accept, and even defend a system that produces such a sharp mismatch between schools' (and students') needs and their abilities to meet them? What do you think it would take to affect a shift in that attitude?
While overall, there is a close correlation between funding level and student achievement, that is not the only factor, and there are several major exceptions/outliers. For example, Washington, DC (DCPS) has one of the highest per-pupil funding levels in the country, but also one of the lowest levels of achievement and the largest race-based gaps, whether measured by NAEP scores,  high school graduation rates, or others. How do these exceptions to the rule affect the debate around this issue? What do you think accounts for them?
If you were to design a system for funding American schools from scratch, what would your priorities be, taking into account our preference for a high degree of local control, the reality of state and federal political priorities, etc.? (or, to what extent would you be willing to bypass those? What changes do you anticipate this new system might bring about?