Contents
---
Required Reading
---
Optional Reading List
---
Graphics & Data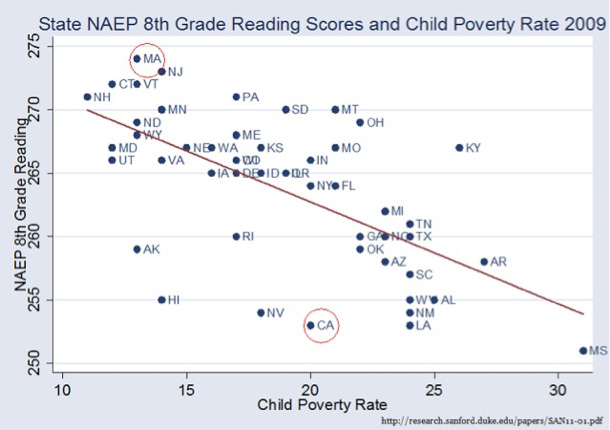 As the graph above shows, there is a there is a strong negative correlation (-0.71) between a state's child poverty rate and how proficient 4th graders read in each state. In general, the lower a state's child poverty rate the better its students score on reading proficiency tests. Data are from the 2009-10 school year.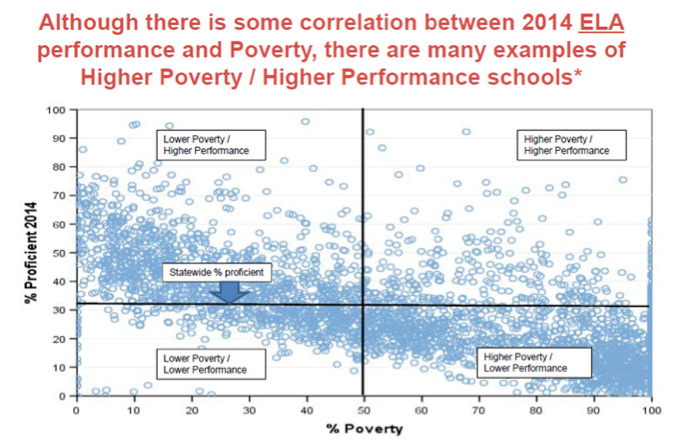 This chart is based on New York state students in grades 3-8 in the 2013-14 school year. Overall, there is a strong correlation between achievement and poverty. There are, however, exceptions to this pattern that invite further investigation. They may perhaps illustrate strategies to mitigate the effects of poverty (rather than reduce it) that can have a positive impact on student outcomes.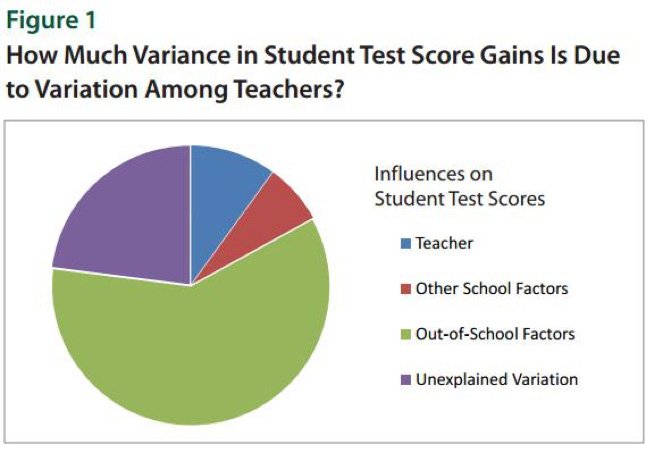 This pie chart, based on research by Edward Haertel, illustrates the many factors beyond single teachers that influence student achievement. These other factors include other in- school factors such as class size, curriculum, instructional time, availability of specialists and tutors, and resources for learning (books, computers, science labs, and more); and, a much larger share, non-school factors such as home and community supports or challenges, and individual student needs and abilities, health, and attendance.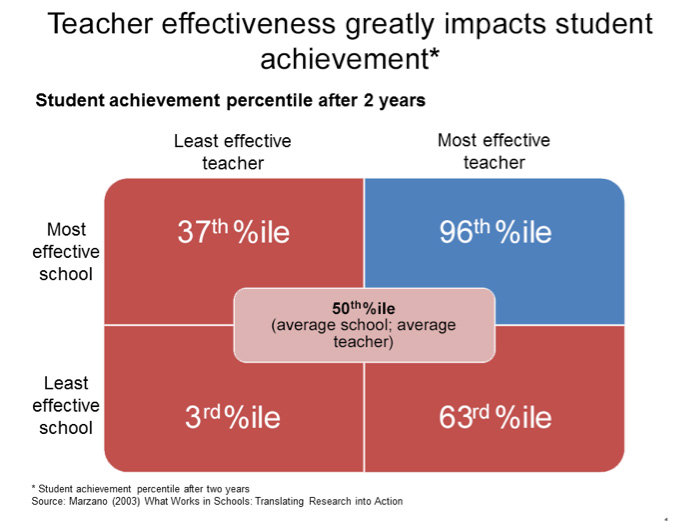 Studies like this one by Robert Marzano support the premise that teacher effectiveness can greatly impact student achievement. If an average student in an average school has an effective teacher two years in a row, then this student can achieve the 96% percentile of performance. Marzano uses a complex rubric according to research-based elements for both effective teachers and effective schools, respectively, and this chart measures the impacts of those effective schools and effective teachers according to that specific rubric. In addition to questions about this versus the BBA and other perspectives, another is how, in practice, to create such effective schools and recruit and retain the best teachers.
---
Video
"Getting Better at Getting Better," at the NEA Foundation's October 9, 2015 Cross-Site Convening, featuring: Tony Bryk, President, Carnegie Foundation for the Advancement of Teaching.  Bryk discusses how multiple individuals and stakeholders in a variety of roles in a school community can and must come together with shared purpose in a coherent and unified way for effective school reform. He decries the fragmentation and "initiative fatigue" that characterize education reform in general and suggests the current chasm between heightened aspirations in reform and what we actually achieve for poor and low-income students is the "greatest social justice issue of our time."In response, he presents his "school improvement paradigm" centered on six big ideas, based on his successful work in some of Chicago's most disadvantaged schools.
---
Book Club Recommendation
If a MOOC session is not your thing, try suggesting this for your next book club instead. These follow the same theme as the more scholarly articles listed above, but make for good discussion over crackers, cheese, and wine.
Ravitch, Diane. (2013). Reign of Error: The Hoax of the Privatization Movement and the Danger to America's Public Schools, Knopf. See especially chapter 10, "How Poverty Affects Academic Achievement," starting at p.91. Ravitch is one of the foremost critics of the standards-based reform movement and particularly, since No Child Left Behind and the dominance of the "no excuses" school reform movement, it's over reliance on high stakes testing and accountability. Having herself been one of the strongest advocates for the testing-and-accountability agenda, she combines the passion of a new convert with the deep wisdom of one of the leading historians of U.S. education. But does she go too far in suggesting that all is well with U.S. schools, and in providing plenty of critique but less in the way of fixes?
---
Study Questions
Question #1
Rhee, Klein, Chetty, and Thernstrom rightly argue that schools and teachers can make a critical difference in the lives of children; Thernstrom suggests that school-based factors explain up to two-thirds of the variation in achievement among student of color and poor and low-income students. Is this "no excuses" argument tenable in light of decades of evidence of larger impacts of out-of-school factors and more recent research by Reardon that not only finds the correlation between achievement and socioeconomic status increasing over the past decade but also attributes much of this increase to academic enrichment outside of school provided by more affluent parents?
Question #2
Why do you think this argument over the primary cause of the achievement gap, expressed generally as due to either ineffective teachers and leaders or family, social and economic disparities, has become so heated and polarizing in politics and culture in the U.S. since the passage of No Child Left Behind, which originally represented a bipartisan consensus in Congress and across the nation's governors?
Question #3
Both Bryk and colleagues' work in Chicago and the Equity and Excellence Commission offer a way out of the false "either/or" debate above over how to close the achievement gap by finding that both in-school and out-of-school factors play significant roles (and interact).  How are the Commission's recommendations, which correspond to the Broader, Bolder Approach to Education, reflected in the recent reauthorization of the Elementary and Secondary Education Act called the Every Student Succeeds Act (ESSA)? Where does the legislation fall short?