The notion that US public schools are mediocre, or even in "crisis," has been fed in recent decades by comparisons of American students and their international peers, often using scores on the Programme for International Student Assessment (PISA), or other tests. But are such comparisons of the "average student" useful, or even valid? What do they actually indicate? And how could we better assess what is working, what is not, and what is likely to actually improve US public education? This BBA MOOC session tackles these important questions.
Required Reading
Optional Reading
Slides/Graphics:
This graphic showing PISA scores by socioeconomic status/SES level across 14 countries illustrates that, across these wealthy nations, high-SES students consistently score much higher – roughly twice as high – as their lowest-SES peers. That said, at each percentile level, the United States scores among the lowest, while Canada, Finland, and Korea consistently outperform their counterparts.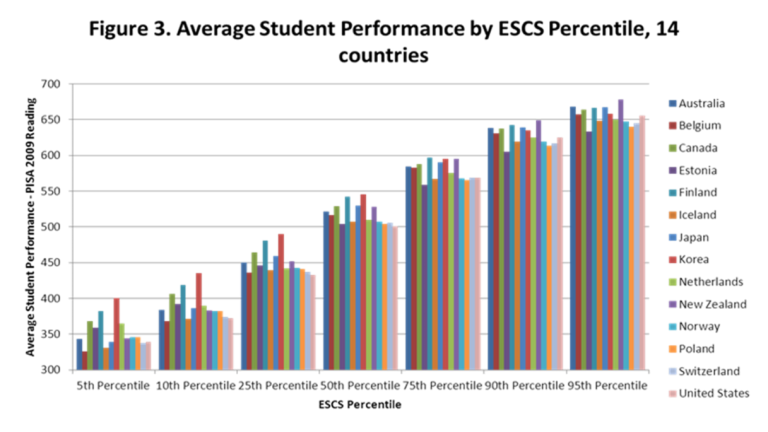 The Children Left Behind: A league table of inequality in child well-being in the world's rich countries. While it is true that, across wealthy nations, high-income students far outperform their lower-income peers, the United States stands out for having many more poor students. Indeed, this is a major reason for middle-of-the-pack PISA scores; our high share of poor students drags our average down more than is true of other countries. As this table illustrates, US levels of inequality put us at the bottom among our developed counterparts, a parallel drag on scores (and students' odds of academic and life success).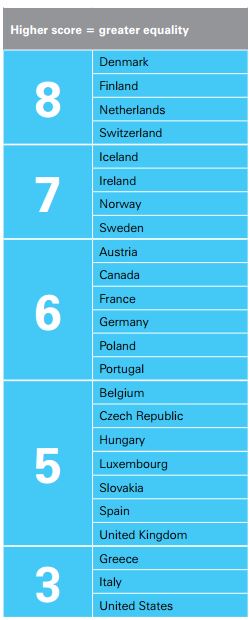 Mel Riddile (2014). PISA: It's Still 'Poverty Not Stupid.' As summarized above, Riddile compared US schools with less than 10% student poverty to other countries with similar poverty rates. In this comparison, the United States ranked first, showing that US students who attend low-poverty schools easily compete with – and indeed, far outperform – their Finnish counterparts.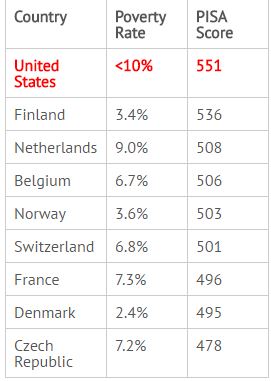 Film: Korean High School While Korean students tend to get high scores on the PISA, that achievement comes with a cost. This documentary preview, made by an American student, follows Korean teens through high school as they strive to reach their standard of perfect – both in school and beauty. Students are under immense pressure to study and get the highest score on the Sunung, their college entrance exam, which results in many committing suicide. Other students admit that they have no hobbies outside of school and will study for as many as 16 hours per day. Meanwhile, young girls are undergoing plastic surgery in attempt to live up to their country's impossible beauty standards.
Book club:  Yong Zhao. (2009). Catching Up or Leading the Way: American Education in the Age of Globalization. ASCD. Given the impacts of globalization and technology on our world and the future of today's students, how well are US education policies adapting to new realities? In particular, are our schools emphasizing the knowledge and skills that students need to succeed in a global society–or are they actually undermining their strengths by overemphasizing high-stakes testing and standardization? Are education systems in China and other countries really as superior as some people claim? Born and raised in China and now a distinguished professor at education at the University of Kansas, Zhao bases many of his observations on firsthand experience as a student in China and as a parent of children attending school in the United States. He asserts that American education is at a crossroads and that we need to change course to maintain leadership in a rapidly changing world. He explains what he believes is right with American education; why much of the criticism of schools in the United States has been misleading and misinformed; and why China and other nations in Asia are actually reforming their systems to be more like their American counterparts. In particular, he believes that protecting space for individualism and creativity has been key to consistent American economic strength and ingenuity and that those same emphases will serve us even better in today's context.
Discussion Questions:
This session discusses several factors that affect PISA scores — including poverty, parent education and job status, and teacher quality — across different countries. Given all of these factors, how can we interpret scores in a valid and reliable manner? Or is it the case, as some critics charge, that there is no value in PISA and the United States should not continue to participate? Alternatively, how might we expand the analysis of scores on our own rigorous, nationally sampled exam, the National Assessment for Educational Progress (NAEP/the "Nation's Report Card") to advance better policies?
Sahlberg, Darling-Hammond, and Zhao all explain why we should not compare average US PISA scores to those of high-scoring countries, such as Finland and China. Given both unique challenges to improving the US education system and barriers that are true across countries, what would it take, policy-wise, to raise US scores? Does it even matter if the United States scores as high as Finland, and if so, do you think that would drive our education system to favor less creativity and innovation, as Zhao discussed in his book?
Implementation of the Every Student Succeeds Act (ESSA), which replaced NCLB as our premiere national education legislation, allows states to assess students using performance assessments and portfolios instead of standardized, traditional testing. Would international scores look different if PISA switched to this method of assessment? How might this affect global education systems?