Supporters of a Broader Bolder Approach to Education,
Spring isn't bringing many showers this year, at least not in DC, but it is certainly bringing attention to ESSA's new provisions and opportunities for states, districts, and schools. So this newsletter is dedicated to some of the best and newest of ESSA commentary and guidance. We hope you enjoy it as much as you are enjoying the gorgeous weather!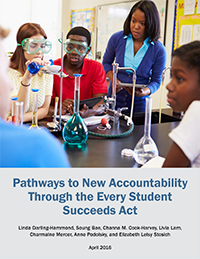 To no one's surprise, the Learning Policy Institute (LPI), Linda Darling Hammond's new think-and-do tank, has come out strong and positive on the issue. Jointly with SCOPE, LPI released Pathways to New Accountability through the Every Student Succeeds Act. As they point out, "The passage of the Every Student Succeeds Act (ESSA) provides states with flexibility and the responsibility to design and implement new systems of accountability, support, and intervention. With the new law comes an opportunity to focus efforts at the school, district, and state level on ensuring that all students graduate high school with the knowledge, skills, and dispositions to participate fully in our society." The two institutes also offer a peek into pioneering states at the forefront of this work, providing helpful examples to adopt and adapt (and an emphasis that the work should be slow, patient, and thoughtful).Among the many opportunities offered by the passage of ESSA are new resources for schools and districts that partner with community organizations to support a broad range of student needs. Check out helpful guidance from the Coalition for Community Schools on how to engage community members and key stakeholders and more (plus a bunch of other ESSA-related stuff).Alongside the good ESSA news are reasons for caution. On top of the responsibility ESSA puts on states and districts, many of which lack the capacity, will, or both to do the hard work needed, there's the issue of ESSA's "fifth indicator." This US News commentary captures the promise — and potential pitfalls — of social emotional learning in this new policy context:

"Despite growing evidence that social and emotional learning is important to college and career success, these skills are largely unmeasured in schools. Many of the assessments used to measure these skills have not yet been widely used, and evidence of their validity is limited. Most existing measures of these skills, including those used by CORE, are based on self-reported surveys, which typically do not work well for accountability because people can be pressured to report in positive ways. When high stakes are involved, even tightly controlled, standardized testing is often gamed, and assessments of social and emotional learning could be manipulated particularly easily."

The right actions under ESSA will be critical in fighting the disadvantages that poverty and minority racial status pose for too many American children. But they will not be sufficient. Children of color and their parents understand all too well that the US school system is rigged against them, from before they even begin kindergarten. The timely new book Too Many Children Left Behind by education scholar Jane Waldfogel and four colleagues documents that not only schools but broader social systems conspire to put lower-class US children behind early and keep them behind in ways that similar countries do not.

Indeed, generational poverty in the United States can feel inevitable. As a new Century Foundation study of at-risk youth from Baltimore's Sandtown neighborhood demonstrates, it doesn't have to be. But we need to be much smarter, more intentional, and willing to invest in their future, if we are going to break longstanding chains that bind. On the anniversary of Freddie Gray's murder, this report's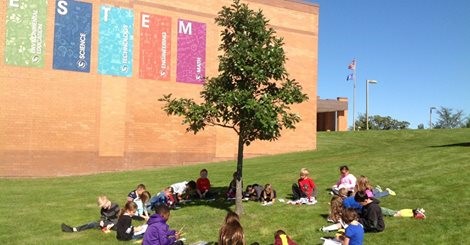 call to action couldn't be more timely.
Bottom line: for the many of us frustrated by years of narrow views of what constitutes student and school progress, how to measure it, and the definition of accountability, we must seize this moment to go broader and bolder! Wouldn't it be wo
nderful to see districts and schools following in the footsteps of Redtail Rid
ge Elementary School in Prairie Lake Minnesota and getting kids outdoors all year long to learn hands-on from and with nature? It's up to all of us to help them move in this direction.
Thank you, as always, for your dedication to ensuring that all children receive a rich, comprehensive education and have the support they need to fulfill their potential.  We look forward to continuing to work with you in 2015 and beyond, and to keep you informed of activities and policies that support a Broader, Bolder Approach to Education. Don't forget to share our Facebook posts and follow us on Twitter!